Hey folks My good buddy McT was able to reach a stable over clock with his i7 920 so I thought I would try and do the same...
I have been playing with the beast today to see if i could increase my 4GHz overclock or not. well i have it booting and running flawlessly @ 4.2 with decent temps still. I have not yet stressed the system as i am enjoying basking in the glory of it reaching 4.2.
Here are some screen shots for your viewing pleasure.

4hams

Old Father Time





Posts

: 2708


Join date

: 2010-02-06


Location

: Ontario, Canada



Ok folks I have done it! :clapjoy: :clapjoy: :clapjoy:
Rock Stable @ 4.2 on the Domino ALC cooler. Have a look at the screenshoots below.
The first shows the temps while being stress tested with Intel Burn Test. Notice the overall CPU temp never went above 67 degrees. the hottest an individual core got was 75 degrees for a moment.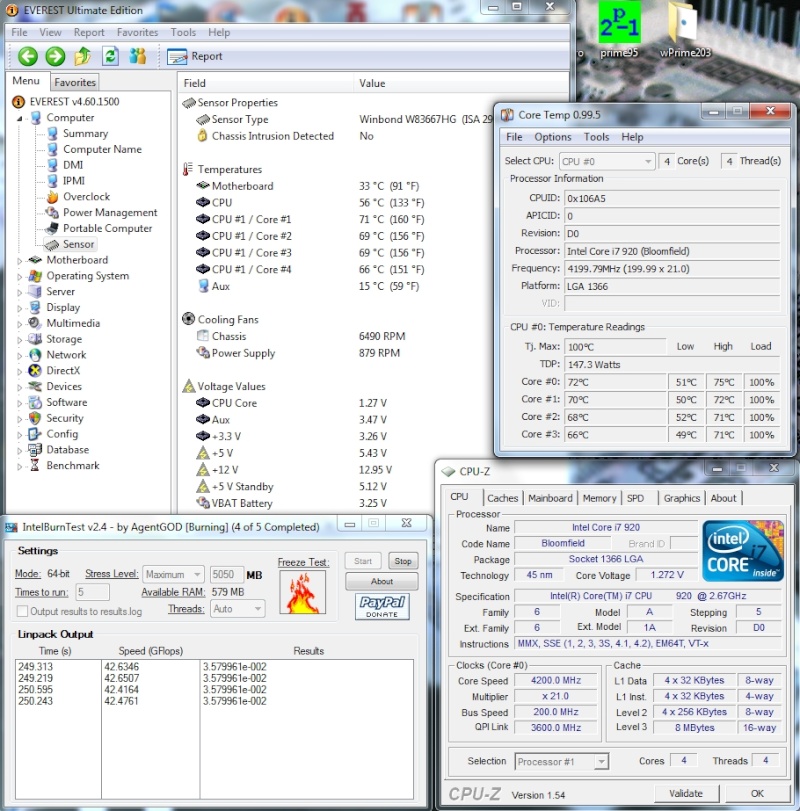 The second shot confirms the completed test.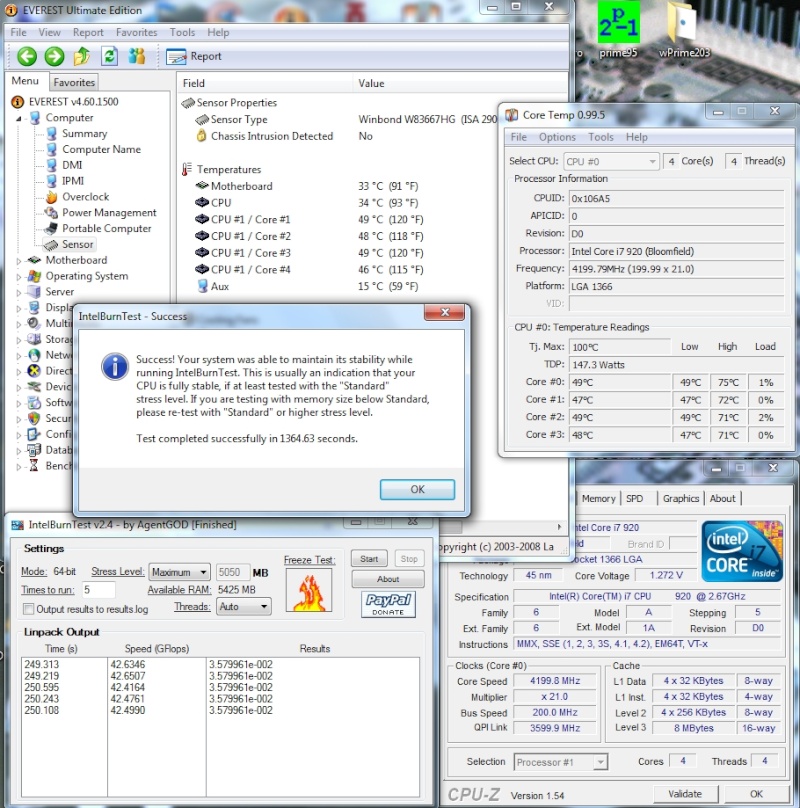 The third is confirmation of V-drop. I had to raise the V-core to 1.8275 in the Bios for a stable clock. I also had to raise the Pcie from 100 to 105.
I also manually set the Ram to factory timing of 8-8-8-21 from where the motherboard had it set at 8-8-8-24.
After all this tinkering i am very happy with the results.
A friend suggests doing a push pull setup on my Domino ALC and thinks I will get maybe 5-8 degrees better cooling. I have already flipped the fan on it so it sucks cool room air into the rad and case which made a huge difference when first installed.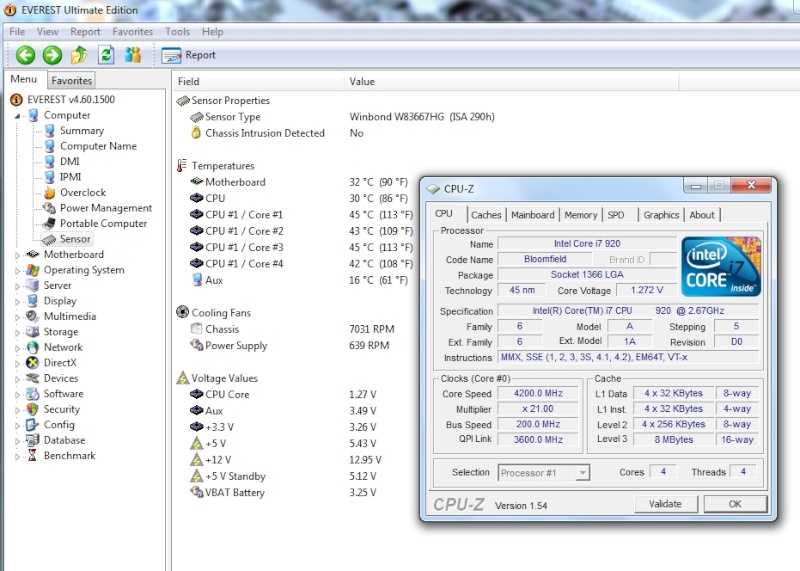 4hams

Old Father Time





Posts

: 2708


Join date

: 2010-02-06


Location

: Ontario, Canada



I would say you have exceeded my results my friend. :Winner:

Those statistics are extremely impressive Joel. To be solid stable @ 4.2 @ 1.28 and have the temps @ 100% on each core is outstanding. Your case and cooling system is coming into its own here.
I think i can improve on my previous temps for my original clock but still see them going to the 80's which is ok but compared to yours mere average.

So others are aware 4.2ghz is not always achievable for every 920 D0 stepping. Its takes hard work and a good understanding on what is going on in each area. Solid memory is required too.

Again Congrats to you 4hams for the excellent results. Now make our mouth water with some monster benchmarks. :D

4.4GHZ is a real achievement and a challenge. Due to the work needed to achieve 4.2ghz i have not even attempted it personally. My board struggles with 200+ bclk settings. Though we will see in the coming weeks. :D

McT
Well Joel had a go this morning as was woken up early by Kenzie , so had some time on my hands.
Quickly managed to get 4.2ghz stable though i still think the settings are very high as the temps are much to extreme for my liking and my previous clocks. Maybe the crossfire plays a part here , with more volts on the pcie lanes and less breathing space on the in general.
Anyway here i was this morning :D :hahapirate:
First was a standard Intel burn test stress.
Then came the true calling , though see the high max temps. Too much :face: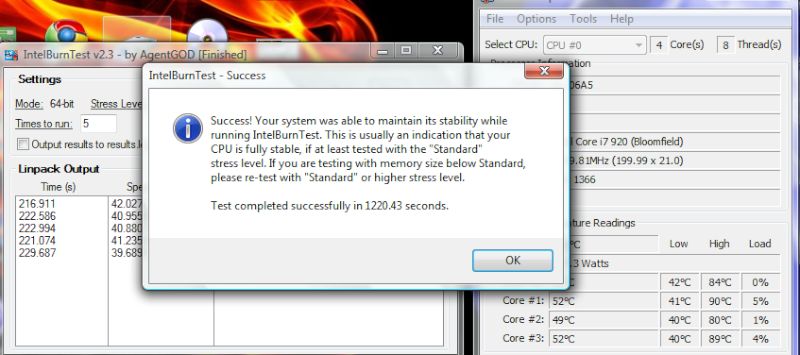 I believe that some fine tweaking on the voltage side might help here. I think i had 1.27v before , with a low 1.29 pll/vvt. Today i had 1.32v and i think this contributed to this. My memory was running higher too @ 1.66v rather than 1.65v. At this level the small details do impact all the results. Though with the small DFI micro ATX board i am rather happy with what it can achieve.
McT

---
Permissions in this forum:
You
cannot
reply to topics in this forum